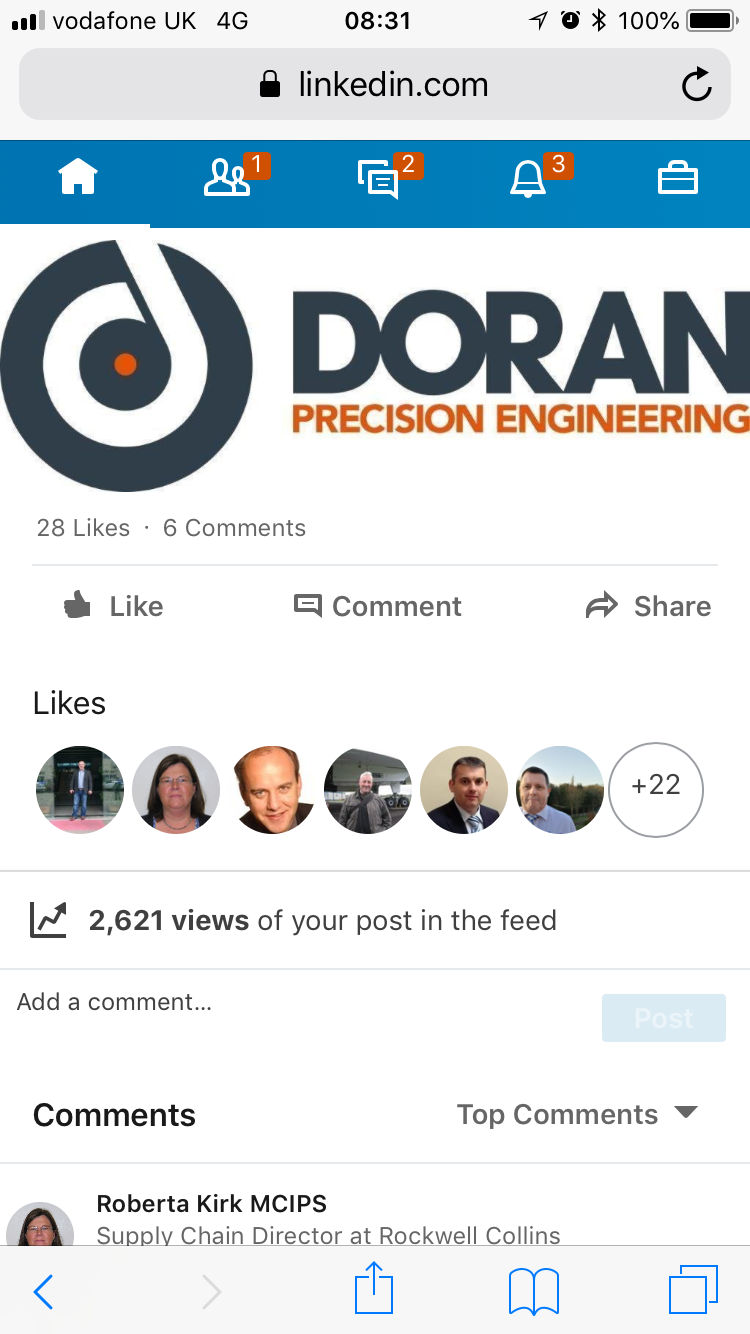 Doran Achieve AS9100 Rev D - Now with 2600+ posts...!
Press Release – Launch of Quality Blue @ Farnborough Air Show
Background and Introduction -
Quality Blue Ltd is a new company formed by Adrian Gundywho has over 20 years' consulting and training experience. The focus is on using ISO-based Quality Management Systems to drive process performance. The company has developed a unique and proven approach - the BLUE model. This is a simple yet powerful approach to driving process improvement, performance and effectiveness.
Visit our Quality Blueweb site for more information here.
Approvals and Certifications -
Certified ISO 9001:2015 Quality Management System




ADS SC21 Supplier Development Program - Approved Training Partner




Benchmark Index Licensed Practitioner Partner




British Standards Institute (BSI) Associate Consultant Program - Associate Aerospace Auditor




Invest NI Approved Supplier List for Audit, Training and Consultancy Services




Enterprise Ireland Approved Supplier List for LEAN Training and Consultancy Services




CQI-IRCA Certified Aerospace and QMS Principal Auditors and ISO Certified Trainers
Services offered -
Training, Auditing and Consultancy services are delivered through a team of dedicated and experienced Associate Consultants, providing the best people with the right experience to deliver the best projects - every time, everywhere.
Areas covered -Quality Blue operates throughout UK, Northern Ireland and Ireland.
Sectors covered -Aviation, Auto, Rail, IT, Medical Device, Engineering, Food Processing and Business Services.
Meet us @ Farnborough Air show –we shall be on the Northern Ireland Group stand on 18 & 19 July. The stand is located - In Hall 1 within the UK Pavilion: Stand No: 1310 - Look forward to meeting you!
Contact details –Dr Adrian Gundy. Tel: +44 (0) 7723 382513 or email adrian@qualityblue.uk
Released on Thursday 5 July 2018. END OF PRESS RELEASE:
Congratulations to Chris, Darryl and the team at Doran Precision Engineering - certified AS9100 Rev D at the first attempt with zero NCs. Great job guys - well done. We are proud to be your AS91200 consultants!