LEAN EFQM® Transform® Program
LEAN Business Continuity Voucher Scheme
for all Irish Client Companies
Quality Blue is an approved LEAN services provider for Enterprise Ireland, and has been approved as a supplier of Consultancy and Training support for Irish companies under the LEAN Business Continuity Voucher Scheme.
This LEAN EFQM® Transform program delivers 12.5 days of structured and planned project of improvement that is delivered through 4 distinct and value adding stages. Each stage has a range of activities that dovetail together. Quality Blue will conduct the Lean audit and EFQM assessment to international Best Practice standards and provide a road map for improvement and ultimate EFQM European Recognition. We also have a range of additional options that can, if you wish, be integrated into the program e.g. Performance Benchmarking; Lean 6 sigma training, Relationship Management Model. For those companies that are more mature and able and willing to carry out more of the improvement activity on their own, then our LEAN EFQM® Fast Track program at 8 days might be more suitable.
NB IDA clients get get up to an extra 30 days FREE support.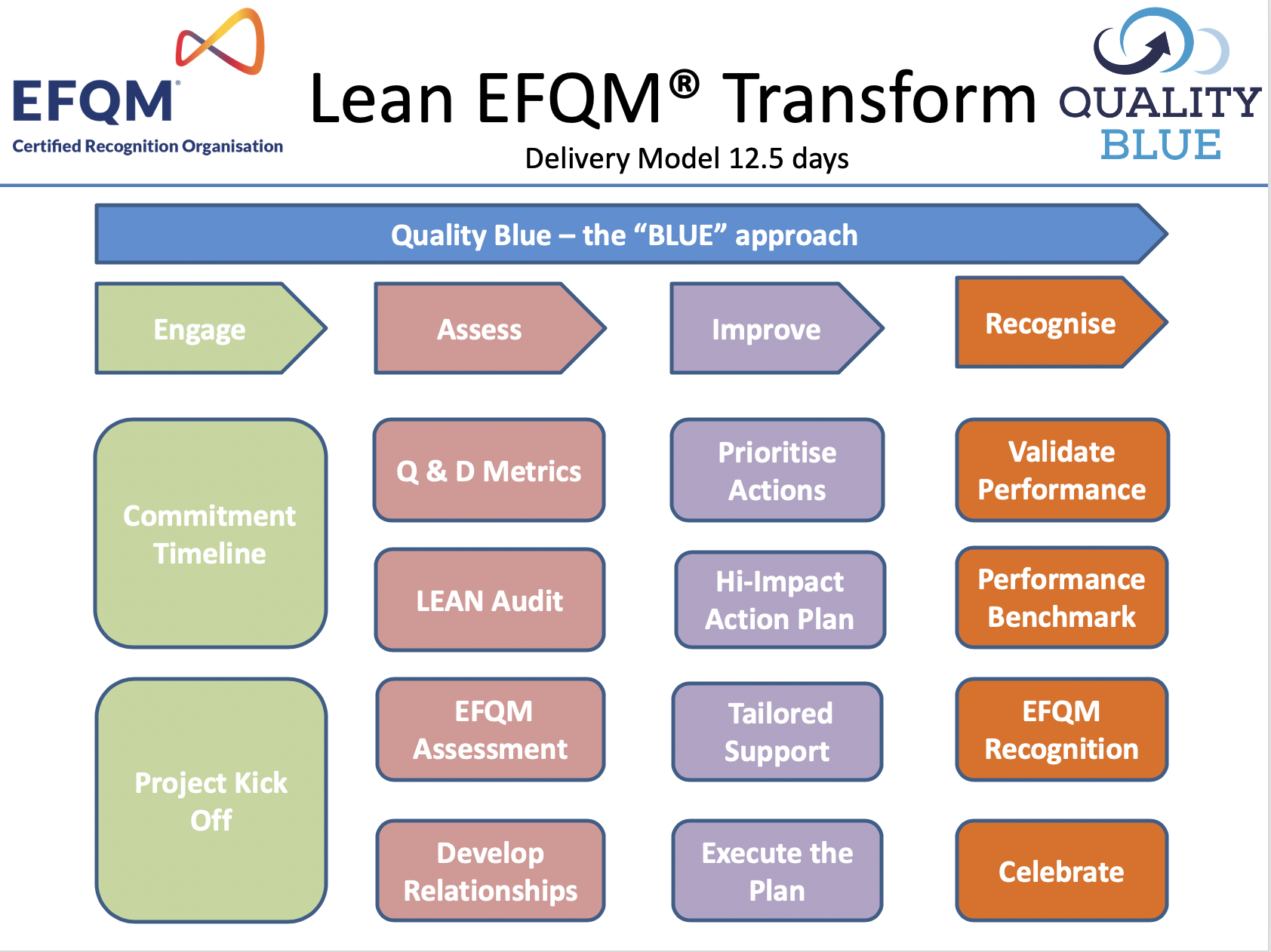 Quality Blue would make for the ideal partner choice to support you and your team and assist you to get back on track as we contain and emerge from this Covid-19 virus crisis.
ELIGIBLE COMPANIES
Any client of EI, IDA, Údarás na Gaeltachta and LEOs is eligible for support !
We will manage your application for you - so you do not waste time or energy filling in forms.

SIMPLY CONTACT EITHER MARIE OR ADRIAN TO START THE CONVERSATION !

NB - Companies who are not clients of any of those agencies should contact businessresponse@enterprise-ireland.com to see if they can be eligible for support.
ELIGIBLE PROJECTS
Support is for Training or Advisory Services related to the OPERATIONS of a company. That could be Lean process flows, supply chains, or pretty much anything that can help you in terms of either keeping operations running or planning for re-opening or re-launching in a different way if you have had to close.

Quality Blue Proven Track Record !

We have been delivering these business process support and development services across the island of Ireland, UK and parts of Western Europe for the past 20 years.
We have a balanced mix of skills and experience in both the Manufacturing and Services sectors, and our team members are based all around Ireland. This service is designed to be delivered remotely using a variety of remote communications applications e.g. Zoom, Skype, FaceTime etc

Quality Blue is used to and comfortable with targeted, often complex, change projects with tight deadlines, and securing external certifications and approvals as an outcome.

Quality Blue has a wide range of training modules that focus on structured root cause problem solving, preventative problem solving, business process improvement, and a wide range of LEAN tools that can be delivered online in varying amounts of time, from 1 – 3 hours. These are practical, template based tools and methods for fast adoption and implementation by companies. All online modules have complete set of training materials and instructions for templates
Lean EFQM Transform brochure Rev0.pdf